Judges 6:14 records, The Lord turned to him and said, Go in the strength you have and save Israel out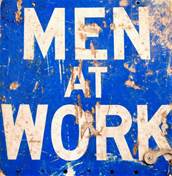 of Midian's hand. Am I not sending you?
Amazing that God does not say, go with the strength I will give you. Instead God encourages Gideon to use what little he has to accomplish the overwhelming task God has set before him.
Why?
Too many attempt too little for God because they see their weakness instead of God's strength. Too often people say they need more training before they can serve God. Others, feel too unclean to begin doing good works for God.
The result in all of these cases is that nothing gets done in the work of seeing God's kingdom come to earth as it is in heaven.
God doesn't ask us to serve Him only when we reach the place where we don't need Him. God invites us to yoke up to Him, to connect as partners in the work of bringing His kingdom to earth as it is in heaven.
God is able to do all the work Himself but has chosen to involve His beloved creation to participate in His work. This is our most noble and honorable purpose for living.
God has endowed us with great minds, great will and great strength to do much. Those gifts coupled with His unfathomable and limitless power is a combination that can never be thwarted by anyone or anything including the forces of hell.
God does not see us as puny and weak but as harassed and helpless like sheep without a shepherd. God sees Himself as the Good Shepherd Who calls His sheep by name so that they can join Him in fulfilling the purposes He has for the world.
God promises to be with those who obey His command to go into the world and make Him known by helping all people know Him.
The only thing keeping us from the most meaningful, fruitful and eventful life is faith; a willingness to trust God that His power is manifest through those who are weak.