Psalms 91.14-16, explains, because he loves Me, says the Lord, I will rescue him;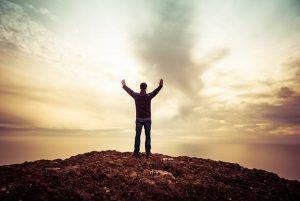 I will protect him, for he acknowledges My Name. He will call on Me, and I will answer him; I will be with him in trouble, I will deliver him and honor him. With long life I will satisfy him and show him My salvation.
The blessing of the Lord, who does not want that in their life? I know I certainly do. How then do we receive God's favor?
By loving Him with all of our heart, soul, mind and strength. By praying to Him, bringing before Him all of our needs, concerns and cares. God is delighted when we look to Him for help, and His presence, in all things, because without Him, we can do nothing.
We receive God's blessing too by telling others about Him so that all men may be reconciled to God the Father, Who longs for all humanity to become His beloved children. These things; love God, pray to Him, share His story with others, are what pleases God our Savior and causes Him to bless us with His presence, His help and His salvation.
If we want His presence in our troubles, for trouble is a certainty for all men, if we want His help through the trouble so that we suffer minimal damage, then we need His blessing. If we want to see the fruit of our love for Him, the salvation of people and our own upon that day when we, like all men, meet God face to face to receive our reward for obedience to His commands, then we need God's blessing.
Are we then to work for our salvation rather than receive His pardon by grace through faith? Absolutely not, for God alone has come to save us, and He has quickened our spirit to know Him. He has poured His Spirit into us for leading us to Him and making us productive for Him when serving Him is our chief end.
Yet He commands us to love Him, He invites our prayers and He has commissioned us as His witnesses to the nations. Therefore, the obedient to God, receive the joy of God, and the blessing of God, which is His presence, His help and His salvation.
These are the very things He promises to those who love Him, seek Him and share Him with men.