2 Chronicles 31.2 observes, Hezekiah organized the groups of priests and Levites for their respective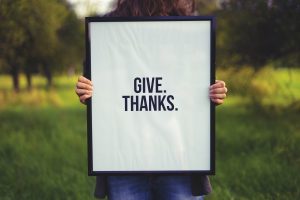 tasks, handing out job descriptions for conducting the services of worship: making the various offerings, and making sure that thanks and praise took place wherever and whenever GOD was worshiped.
Two essential elements of worship of the One true God is thanks and praise. We give God thanks for all He has done for us. We praise God for Who He is. Thanks and praise are critical elements of our worship because they take our eyes off of ourselves and place our focus where its always supposed to be: upon God.
When we give thanks we acknowledge God's participation in our lives and that we are not the direct result of our own efforts. Giving thanks to God is a means for keeping us humble before God and not boasting before men of all that we have or all that we have done.
Praising God for Who He is acknowledges His character that is higher than ours and greater than we can ever attain. Praise draws our attention to the Person of God bringing us nearer to Him causing us to love Him more and more. We would do well to focus on an aspect of God's nature and character in our worship, like His holiness or His righteousness, in order to remind us of His awesomeness and ourselves of our feebleness.
This discrepancy isn't to lead us to despair but to worship; that this God, this Great God, seeks above all things to be called Father by us and wants above all things to see all of humanity recognize themselves as children of God.