Mark 10.39 records, they said to Him, we are able. Then Jesus said to them, you will drink the cup I drink, and you will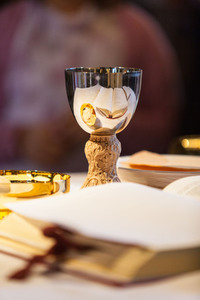 be baptized with the baptism I experience.
Jesus' key men wanted to live their best life now. These guys were interested in becoming Jesus' chief lieutenants helping Him to manage the world as He became King of kings and Lord of lords. What James and John failed to realize was that Jesus was not living His best life now but rather His worst life now. This is what it meant for Him to drink the cup and be baptized.
The Apostles were interested in the cup and baptism but they misinterpreted its meaning. So too many who claim to be Christians misinterpret the cup and baptism.
Jesus left heaven where He is King of kings and Lord of lords in order to come to earth where He would become Savior of the world. The cup He would offer men to drink was the cup that would be filled with His blood. Jesus came to suffer the humiliation and consequence of the rebellion of humanity. God as man, would allow Himself to be beaten, crucified and speared by men so that His blood could flow freely in order to fill the cup that would be used to cleanse humanity from all unrighteousness.
Jesus was also baptized with a baptism of surrender to the will and work of God instead of His own. God entered the earth as a humble child and spent most of His life as a small town carpenter. No one knew God was 'in the house' as He lived among us as one of us. But when He submitted Himself to baptism He no longer worked as a carpenter but began the work of Savior of the world. This baptism was an example for all who would come after Him of the surrender required to follow God. This baptism would lead Him to the work He was destined to complete which is the salvation of the world through His own death and resurrection.
Those who come after Him will drink His cup and be baptized with His baptism but it will not result in our best life now just as they did not result in Jesus' best life now. Drinking His cup means surrendering our lives even to the point of death if necessary. It also means dying to self, loving no one or nothing more than Jesus Himself just as Jesus loved the Father and doing His will more than keeping His own life.
Baptism is the public acknowledgement that Jesus has become our Savior and Lord. His Lordship means exactly that, Jesus' commands are now the priority and the purpose for our life. Just as Jesus' baptism meant leaving the work of carpentry to begin the work of Savior so too our baptism is to mean the end of living selfishly to living intentionally for God's glory to be seen and felt on earth as it is in heaven.
True Christians are those who drink the cup and participate in baptism. They are not mere religious symbols to be practiced weekly but they are to be participated in with the full conviction and understanding that they symbolize the end of our self centered lives and the beginning of the God centered life with the result that our best life will not be now but will be in the world to come.