Matthew 4.4 answers, it is written: Man must not live on bread alone but on every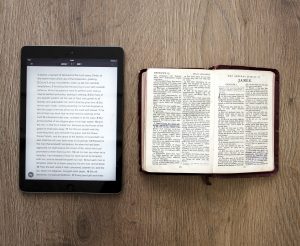 word that comes from the mouth of God.
The Scripture, God's Word, does not say, man should not, but rather, man must not, live on bread alone. Jesus, God Himself, had not eaten for forty days. It would do no good for the Savior to die of starvation rather than crucifixion.
The devil knew this so tempted Him to eat, to change focus, from seeking God and doing His will, to meeting His very real and immediate basic necessity for food. God did not make this choice. He rather reminded the devil, and us, that God is first.
His presence, His will and His ways are to be sought, obeyed, desired and done before even our own basic human needs. We don't live like this however. We work to accumulate much bread in order to live well giving God left over time, talent and treasure, if we give at all.
We quibble over 10% when God requires we give Him 100%. We ignore God's word in both its learning and its doing while we work for more bread. We wonder then why we are not more like Jesus, why our world is not more Christian, while we continue to ignore Him Who changes us from the inside out by the appropriation of His Word in our lives.
If we would see God more, if we would know God more, if we would obey God more, we must spend more time with Him, hearing His voice, in His Word, so that we can engage His will. In this way, we will see His kingdom come and His will be done on earth as it is in heaven, thus showing ourselves to truly be His disciples.