Romans 1.5 encourages believe and obey Him.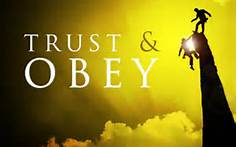 What must we do to go to heaven?
Believe and obey the Lord Jesus Christ Who alone is God and came to men as a Man so that we could know God and be reconciled to God.
The work of God Jesus said was to believe in God and the Savior Whom He had sent. The command of God, said Jesus, is to love Him with all of our heart, soul, mind and strength. This love is practically manifested by obedience Jesus taught, just as He lived in perfect obedience to everything God had commanded in the Scriptures.
We must both believe and obey in order to please God.
We believe first that God is and that God has come and then that God has made possible reconciliation with Him through the sacrifice and resurrection of Jesus. All people are born pre-disposed to disobeying God and so are in need of forgiveness from God. To believe this is to acknowledge God's work in Jesus and our own failure to earn heaven by doing good. When we believe this we understand the desperate plight we are in as we move closer to eternity every day.
We need pardon from God; one must receive a pardon from God if we are to live with God forever.
The pardon from God comes when we believe Him that He has come to pardon us and we humbly ask for His pardon through Jesus.
Receiving God's pardon now compels us to obedience to God.
Having received God's forgiveness means no longer continuing to do those things for which we were forgiven. While obedience is a daily struggle, with God's help, we become increasingly better at obeying Him because God has taken up residence in the forgiven in order to empower them to live lives pleasing to God.
Pardon is received by belief and proven by obedience.