Matthew 5:3 proclaims blessed are the…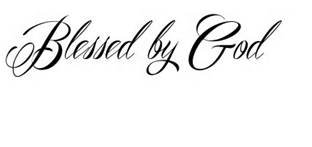 Most likely there is no one on the planet who doesn't want to be blessed by God. There is an entire Christian industry claiming wealth and health to all those who know God and have faith in Him (and give generously to His messengers).
The thinking we associate with blessing is always around money, influence and power, not the things God identifies as blessing when He lived among us in the Man, Jesus. God has told us what it means to be blessed by Him..If we want His blessing we should expect poverty of Spirit, mourning, meekness, a hunger and thirst for righteousness, to be merciful, to be pure, to be a peacemaker, and to be persecuted.
This is not the list most people have in mind when they think about God blessing them. This might explain why so many Christians feel they are not blessed and so become discouraged and even angry with God Who doesn't seem to rescue them from their financial pressure or health ailments.
The Church continues to enforce the false understanding of blessing when it parades the wealthy and the beautiful before their congregation as those God has looked upon with special favor. Christian hierarchy is not defined by the things of this world but by our similarity to Jesus Who gave His life as a servant offering for the benefit of the world.
If we truly desire the blessing of God then we will pursue the things God desires to bless us with.
The first blessing is the understanding of our own poverty of spirit, our own inability to independently love and obey God without the infusion of His Spirit into our lives. It is the arrogant and the proud who think they can get to heaven by their own good deeds and who are born basically good so deserve God's blessing of heaven. It is only when we see God for Who He really is and ourselves for who we really are that we understand our tremendous poverty and desperate need for a Savior.
The first blessing of God is the blessing of the recognition of the need for His Son and the subsequent surrender of our lives to His Lordship.
As we look forward to the new year still fresh with the hope and promise that it will be more blessed than last year let's set our sights on the true blessings of God and pursue those things so that 2015 may indeed become our best year ever.