Ezekiel 8.6 observes, son of man, do you see what they are doing – the great abominations that the people of Israel are practicing here, to drive Me far from My sanctuary? But you will see greater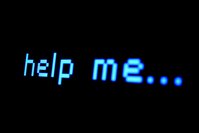 abominations than these!
This snapshot into the life of Israel records them fasting and praying seeking God's mercy and favor for changing their miserable situation. Difficult times has the affect of moving us to prayer. Israel was trying to market themselves to God as penitent, faithful and obedient.
Yet God sees all, not just the religious show we put on for Him.
In this case, the One true God was only one of many gods that Israel was looking to for help. It was Israel's failure to seek and obey their God at the exclusion of all others that brought them to the desperate point they were experiencing. This is normally the case isn't it?
We are victims of our own choices resulting in consequences we didn't want or expect and now don't want to pay. So we pray for mercy and help. So often God does help and provide mercy. More often than not in my experience.
But if God is one of many methods we are using to alleviate our misery we should not expect Him to be willing to compete with our idols. If anything, our idolatry makes Him more unhappy with our behavior resulting in greater distance from God and the source of His strength.
God demands first and foremost our allegiance and our loyalty. He defines this in His first command to love Him with all of our heart, soul, mind and strength. Our prayers mixed with our attempts to change our circumstances utilizing means that violate His other commands will not result in God helping us. Objectively that makes sense doesn't it?
Would a good God help a bad people using bad means to accomplish bad ends? The One True God is willing to work with a bad people. We are all in need of a Savior. None of us are perfect. None of us are the perfect reflection of Jesus. That is not the issue.
The issue is not seeking God alone. The issue is not trying to please God alone. The issue is not admitting to God our disobedience and seeking His forgiveness.
The Almighty loves His people but His people must humble themselves, turn from their wicked ways, seek obedience and then pray. When this occurs He is quick to hear and swift to move upon our behalf.