1 Peter 1.5-6 describes, (we) through faith are shielded by God's power until the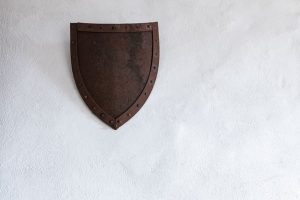 coming of the salvation that is ready to be revealed in the last time. In all this you greatly rejoice, though now for a little while you may have had to suffer grief in all kinds of trials."
Shielded by God's power, what a promise for the Christian. From what is His shield protecting us from? It is not trials, suffering or all kinds of grief. These are the things that cause us to identify more with Jesus and for which God's wrath will prove just against all those who have rejected His provision of salvation, Jesus the Savior of the world.
What then is God protecting? He is protecting our faith, the assurance of our salvation. These trials and griefs we suffer can cause people to fall away, they are used by demons and men to 'prove' their is no God or at least no God Who loves us and watches over us. These are lies.
As the Son of Man suffered, so too will the children of God suffer. Those who cause God's people to suffer are accumulating their wages for suffering in all eternity in hell. Yet God has not left His people as He did not leave Jesus, the Son Whom He loves, when men persecuted Him and placed Him upon the cross for our salvation. The only moment the Father forsook the Son was the very moment our sins were transferred upon the Sacrifice for all humanity.
God is with those, by His Holy Spirit, Who are His, guiding, directing and comforting them in all their various trials so that they come forth as pure gold, shining forever, reflecting the glory of God in the face of Christ for all eternity. We are indeed protected by God the Father, not from trouble, but from the loss of our faith, from the ultimate consequence of sin, the wrath of God and the judgement to come.