Exodus 6.9 observes, they did not listen to him because of their discouragement and hard labor.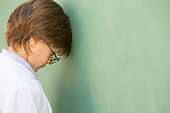 God had great plans in store for Israel but they couldn't receive them because their life was hard. They wanted what God was offering but when the process became more difficult than they expected they didn't believe God was really going to deliver on His Word.
This is how most of us respond to God.
We fundamentally believe God is all powerful therefore He can do whatever He wants and whatever He does should occur swiftly and perfectly. Yet the Bible records example after example of something quite different.
God is indeed all powerful and all He does is perfect but He has chosen to work with, through, by and around men which often causes delay and difficulty for those involved. When we believe God is on our side we expect everything to go our way. While God may be 'on our side,' we most often will be part of the process requiring us to have faith and work hard. Often though God is 'on our side,' others are not and so perseverance is necessary to see God's promise delivered.
It would be nice if everything was easy, that we could just sit on the couch with a bag of chips and experience God's blessings but truthfully that life would make us lazy and arrogant causing us to interpret God as Someone Who exists for us rather than us existing for Him. This is indeed the real shift in our thinking that must occur and when it does it will allow us to work hard, have faith and persevere knowing that our work is not in vain.
The promise for Israel in today's reading was indeed a blessing for them but it was to be a greater blessing for others. This particular generation was to set in motion the nation that would be a blessing to all nations. Unfortunately they did not realize all that God had intended for them because of their disobedience and discouragement.
We are created by God for God to serve God. When we realize this fully we understand our need to get on God's side so that we can see God's will be done on earth as it is in heaven and in this way we will experience the blessing of His presence with us always.