Deuteronomy 6:25 promises if we are careful to obey all this law before the Lord our God, as He has commanded us, that will be our righteousness.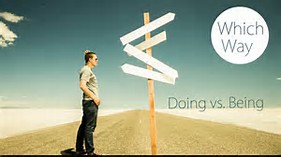 The Christian perspective of righteousness, right standing with God, is both a matter of being and doing. God requires righteous doing, without someone obeying Him perfectly no one can be right with God. The problem is no one can do what God requires perfectly all the time, maybe, none of the time.
Jesus did obey perfectly and can transfer His perfection upon everyone who calls upon Him for mercy.
Those who ask Jesus to be their Savior are righteous, it is a state of being based upon someone else's, Jesus, doing. Now that those who asked Jesus for mercy have been made righteous, they are now expected to live righteously or do the things God commands.
The problem in the current self-esteem culture is that being is rewarded without doing which leads adults to discount the importance of doing to remain in the proper state of being. Christians remain righteous as they continue to do what God commands proving they have been made righteous by the grace of God through Jesus Christ.
Michael Jordan is considered one of the greatest basketball players of all time. While he was being the greatest he also worked immensely hard on and off the court, doing those things necessary to be the greatest. Michael Jordan did the things necessary to remain great.
So too God expects His people to do those things that please Him even though He has declared, through Jesus, His pleasure for His people.
Like any good parent, we love our children, yet we expect and wish for them to do those things that please us in order to maintain a positive relationship. Unconditional love remains for the wayward child but the relationship is broken when children go rogue.
When we fail to live lives pleasing to God we live as rogue children if we declare ourselves Christian by word but fail to live as such by deed.