Hebrews 13:15 commands to continually offer our sacrifice of praise to God by telling others of the glory of His name.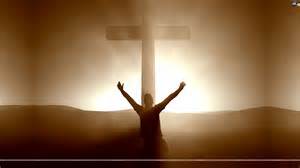 Most people think of praising God in terms of singing songs or giving Him thanks. God describes praise as declaring to others the glory of His Name. It is easy to give thanks and sing songs in church but much harder to declare the need all people have to love God and obey His commands in the marketplace. This is true for a myriad of reasons.
First, we lose focus on Monday from the God Whom we worshiped on Sunday. Like those who don't follow Jesus we become consumed with the pursuit of success or overwhelmed by the responsibilities to produce at work. We forget the Christian command to work as though Jesus were the boss, because He is for the Christian, which means keeping our focus on honoring Him all day while we do the tasks we are assigned by people. We mustn't let our desire for success and acceptance overwhelm our neighbor's need for a Savior. Second, its hard for us to engage people about God when we are not living a godly life. Our own failure to live like Jesus causes us to feel hypocritical talking about Jesus. The solution to this problem is simple but not easy: stop sinning and start obeying Jesus. Read the Bible, understand what God wants then do it.
Also, since we all need forgiven by God because all of us disobey God we need to be more humble with people by confessing our sins to our neighbor when we sin against them. Our failure demonstrates our own need for Jesus, let's own it and invite others to be forgiven just as we need to be forgiven.
The world desperately needs Jesus. Our government, our schools our marketplace is in terrible moral decay. The solution is obedience to the ways of God that lead to life and health for all of us.
Most people believe in God, they just don't understand Who He really is or what He really requires from us.
The job of the Christian is to replace this ignorance with truth demonstrated by holy living and communicated by sharing the teachings of Jesus.